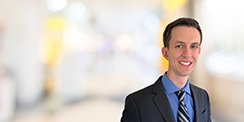 (617) 798-2424
kyle@biospark-ip.com
Education
Johns Hopkins University School of Medicine, Ph.D. in Cellular and Molecular Medicine, 2017
University of Texas at Dallas, B.S. in Biochemistry (summa cum laude), 2012
Bar Admissions
USPTO
Kyle Bruner
Senior Patent Agent
Kyle Bruner is a Senior US Patent Agent with a biochemistry and molecular biology background who began his patent career in technology transfer and then transitioned to private practice at large, international law firms. He has over five years of law firm experience in patent preparation, prosecution, and strategic counseling for biotechnology, pharmaceutical, and academic clients in a wide variety of technical areas, including small and large molecule therapeutics, molecular diagnostics, and cellular engineering.
Kyle also has experience in project management and is a strong advocate of process improvement, continually seeking opportunities to implement practices to maximize quality and efficiency.
Prior to joining Biospark Intellectual Property Law, Kyle was a Patent Agent at large, international law firms.